Dispatch
It is important that your company is made aware of all locates in a timely manner, and this is especially important with emergency and priority locates. Accu-Link Call Centres Inc. dispatches locate request information to locators using any combination of the options listed below as specified by your company.
Dispatch Options [click to enlarge]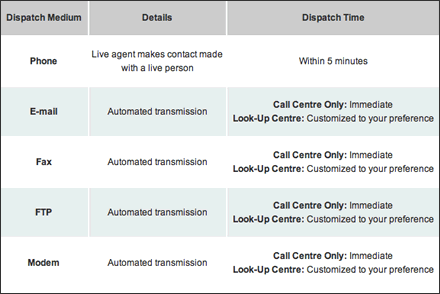 Changes to your dispatch instructions are handled expediently and expertly by our Help Desk staff, and back-up options are set up in the event that your dispatch cannot be completed, ex: phone out of service, cell phone out of range, etc.
Dispatch – Damage Repair
Accu-Link operates a damage reporting service that ensures detailed documentation of a damage to your plant and immediate routing to the appropriate party for repair.
Benefits of Damage Repair
Excavators call the same Accu-Link One Call Centre number that they called to request the locate, eliminating time wasted by attempting to find the right number to call
The information obtained by Accu-Link is accurate and comprehensive, and reference to a locate request is made to assist with any future claims investigation
The information is passed along immediately to the party designated for repairs by the member, thus allowing your plant to be repaired as soon as possible
Accu-Link is open 24/7/365
If you would like to learn more about having Accu-Link handle your damage reporting, please contact our Help Desk at 1-866-466-7613 or e-mail info@accu-link.ca.